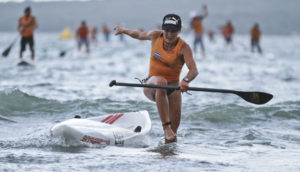 Annabel Anderson. Picture credit Georgia Schofield
What are you afraid of?
A personal journey to equality
By Nick Moloney, CEO of Molokai Group Ltd
I find myself sitting amongst an audience in a luxury hotel on the South West Coast of Sri Lanka, listening to an incredibly emotional and overwhelming Q&A with Christina Lamb (OBE), Sunday Times Foreign Correspondent and author of several very successful books including 'I am Malala' and 'Nujeen' both of which make up the majority of the Q&A focus. These are two very heroic tales of female struggle beyond the realm of acceptable humanity, beyond the clear comprehension of the majority of the lives amongst my fellow audience.
Christina's insights into Malala and Nujeen's remarkable stories drift into other comparative accounts of her personal previous immersion into assignment research, one of which is an insight into a teenager's separate account of repeated brutal rape only becoming less regular the night her rapist returns with a ten year old child substitute. The teenager talks of the desperate cries for her mother from the 10 year girl and the weeping throughout the dark night, penetrating the walls of their imprisonment.
The lady sitting in front of me has tears intermittently falling from her cheeks as her female friend places a hand on her shoulder in an effort to provide some comfort. I want to also place my hand on her shoulder in any attempt to ease her pain but I refrain. The recount, the stories, are peeling away individual layers of our individual hearts at different rates, but I cannot help but wonder if the story was simply too close to this woman's soul or personal life experience.
*
I am a past professional athlete and am now in the business of managing those who do what I no longer can. For the past few weeks I have been working with arguably our most valuable and gifted athlete who happens to be female. Annabel Anderson is the most remarkable and dominant Stand Up Paddleboard athlete in the history of the sport and this title or claim is undisputed. Over the past few months we have been discussing Annabel's intense sporting plans for the 2017 competitive season and establishing a principal set of very ambitious goals, yet one thing that continually enters the discussion is a true measure of the inequality that exists in her sport.
Our marketing agency Neap Limited have researched the story of Annabel Anderson, the woman and the athlete, in relation to our desire to publish an insight into Annabel's struggles and successes; another empowering yet unique message through the voice of a woman in yet another male dominated world.
My take in relation to the association of exposing such inequalities has been relatively reserved. Confiding in associates and friends there is a mixed impression of modern society's stance in regards to equal recognition between men and women in business, sport and life. The responses have varied but in the end and through our research it is undeniable that we still exist and operate within a huge divide in acceptance and appreciation for, dare I say this, women's rights.
In Annabel's case, looking through the 2017 event schedule, the largest world tour prize purse breakdown allocates the female division 50% less than that of the men. It is not surprising that this is hard to swallow for the likes of Annabel who is the only female to have won a World Series Tour event outright, beating the first placed male by over six minutes! That day, after that remarkable achievement she took home less prize money than that of the third placed male, simply because she was a woman.
I must admit, broaching this subject holds concerns for some company CEOs and I found myself sitting in this category. I am a vegetarian and recently posted on my personal Facebook page a video related to food security. I became a vegetarian for no other reason than in my life I have always searched for, and embraced, practical solutions and realized that by eating meat I was fueling the demise of our ecosystem; pretty straight forward and simple. The rationale to reduce or cease completely the consumption of meat products and to cease the support of the related industry has been a simple, practical and an undeniably logical contribution.
The comments supporting that particular post were varied. Some were supportive yet some were derogative. It was one of the least interactive posts that I uploaded that month which also suggests that many of my 'Facebook Friends' remain on the fence. The derogative comments, although delivered with hints of humor to soften the personal blow, highlighted an alarming level of naivety amongst some in which I interact with online. Comments such as 'the vegetarians are at it again' or 'saving the world one celery stick at a time' ring in my ears as my company and colleagues broach the topic of inequality between men and women and the perceptual hurdles that we may face in broaching this topic at a corporate level in true representation of our female athletes in relation to sponsorship.
*
Under the Sri Lankan sun and to the hypnotic sound of Indian Ocean waves ending their long journey on these golden grains of sand, I reflect emotionally on how touched and enlightened I have become through the brief insights into Malala and Nujeen's stories, told through author Christina Lamb. I feel an overwhelming need to take a firm stance on something that I know is a great injustice. An injustice that still exists way beyond the timeline in which this topic should have been long buried, sitting on the dusty shelves in the history of humankind.
For the likes of Annabel Anderson, my mother, sister, niece, female friends, my partner in love and my two daughters, we shall raise a hand in support of equality towards women, without reservation or uncertainty in what we believe is real, what we believe is the moral difference between right and wrong. I now feel an element of shame and gross naivety in relation to an earlier message I delivered to our marketing team basically stating 'I believe in you and your message but be careful, perception is important'. Today, to hell with perception. I am proud that I and our company are more understanding and accepting of the frustration and struggle within the hearts of the female gender from every generation, walk, race or religion. It is now company policy to seek inequality across our complete business model and to make the necessary amendments required to represent woman as equal.
I personally believe in the difference our comparatively small company can make, even if by means of 'one celery stick at a time'.